The first national park in the East, Acadia National Park in Maine began in the early 20th century, when wealthy property owners on Mount Desert Island began donating land to protect it for public use. Along with the tallest mountain on the US Atlantic coast, the 46,000-acre park includes several other mountains, lakes, ponds, beaches, forests, meadows, and cliffs along an irregular coastline of rocky points, sounds, and inlets. These varied environments provide habitats for a tremendous variety of plant and animal life. Bar Harbor is the main town, but Bass Harbor, Seal Harbor, Southwest Harbor, and several others are scattered along the shore of the peninsula.
Among the things to do on a visit to Acadia are hiking, biking, camping, carriage rides, and seeing the park's many natural features on a car tour or on the handy Island Explorer buses. You'll find restaurants and lodging in hotels, resorts, vacation rental cottages, motels, and cabins in Bar Harbor and other towns outside the park, where you can also rent canoes, kayaks, sailboats, and motorboats and sign up for fishing trips, whale-watching, and nature cruises. Most park facilities are open from mid-May through mid-October, with July and August seeing the heaviest use. Fall foliage is at its best from the end of September through mid-October.
1. Park Loop Road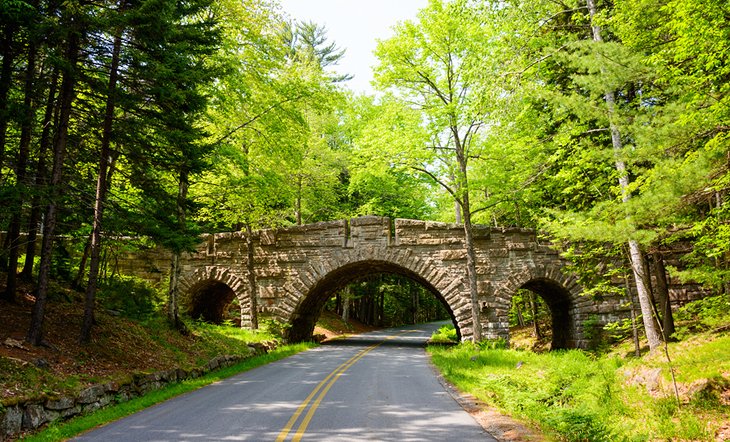 The main drive through the park is the best way to get a full tour of its scenery, attractions, and natural wonders. Plenty of pull-offs along the 27-mile route provide stopping points for photographs, although traffic in these will be heavy in the summer. Highlights along the coastal part of the route are Great Head, Sand Beach, and Thunder Hole, along with Otter Point and Otter Cliffs, soaring 110 feet above the sea, one of the highest sea cliffs on the East Coast. This is a particularly good spot for spotting seabirds. The road is open from mid-April through November, and small part is open all year. Parts of the route are one-way, so you should plan to do it in a clockwise direction.